Over the past few years, many big clubs have started to introduce OTT services. The goal? Further drive their top line, better monetize their large install base, increase the stickiness of their overall offering and try to compete against the Netflix and Amazon Prime of the world?
Before we get into some examples of teams and leagues' OTT strategy, let's start with the definition of OTT. An over-the-top (OTT) media service is a streaming media service offered directly to viewers via the Internet. OTT bypasses cable, broadcast, and satellite television platforms that traditionally act as a controller or distributor of such content.
The term is most synonymous with subscription-based video-on-demand (VoD) services that offer access to film and television content (including existing series acquired from other producers, as well as original content produced specifically for the service). Examples include Amazon Music, Apple TV+, Crunchyroll, DC Universe, Disney+, FunimationNow, Google Play Movies & TV, Google Play Music, HBO Max, Hulu, iTunes, Netflix, Peacock, Pluto TV, Prime Video, Roku, SiriusXM, Sling TV, VRV, YouTube Premium and YouTube TV.
Often time, when people talk about OTT services they talk about "cutting the cord" and moving away from live TV cable offering:
"I was in a meeting a few years ago with the top football producers for college and professional American football. During a conversation about ratings, the researcher leading the talk pointed out that in the future we will have to plan better around the influx of offerings via OTT outlets as we create content. The lead producer spoke up and said the OTT is why his ratings had fallen. The researcher looked stunned and said, what? The producer said that because of OTT his ratings were down 15%. The researcher looked and said something I will never forget. He said, was there an event last month where 15% of our audience lost the ability to consume content? The room looked stunned. He repeated it and asked if people died or the country lost power. The producer said no. The researcher said right, people are not going away they are just not watching your content. It is not interesting to them", said Marc Rowley, former ESPN executive, 5 times Emmy awards winner, inventor of the the Pylon Cam and current CEO of Live CGI, during an interview with The Upside.
The Z generation is also driving this OTT trend which is driving OTT content producers to focus on story telling:
"In this new entertainment era and with this new generations everything's about a time and a place, and they are avid spectators and they get bored easily and in the world of sports it translated into something that is not controllable so you have to increase your brand value with storytelling, which is not going to be an easy task", explained Albert Palay, CEO of The Dream VR, which created the VR channels for Real Madrid and the F1 Federation.
OTT services adoption:
Now let's talk about the OTT adoption. What has been the adoption of sports fans towards OTT services?
—Sports fans spend 5 times more on streaming than Netflix subscribers
According to a report from The Future of Sports Entertainment, sports fans tend to overindex in terms of OTT sports spent. In fact, sports fans spend 5x the cost of Netflix per month on OTT sports content.
—Majority of sports content consumed on TV and mobile, but OTT boxes adoption is growing:
As show in the table below, according to a survey conducted by Deltatre, today TV (64%) and mobile (49%) remain the primary platforms used by sports fans to consume sports. Tablets (41.5%) and smart TVs (41.5%) are not far behind and gaming consoles (16.9%), OTT boxes (13.3%) are growing in popularity.
Source: Deltatre
— For 2/3 of consumers, $39 per month has become the cut-off point for sports content spend – with the remaining third prepared to pay more.
With viewing habits changing across the media landscape, this has led global sports operators to increase their tech investment to better serve and monetize fans of all ages and preferences.
— Demand for content has evolved beyond the living room with 39% of consumers watching four or more hours of sports programming on mobile per week and 1/3 of consumers citing 5G as a technology expected to have the most significant impact on sports content consumption.
— Fans also want to feel closer to the action. 72% of those surveyed cite personalization and a tailored user experience as the most important feature offered by OTT sports services. Almost the same number of consumers (71%) want deeper immersion and a desire to feel closer to the action through the more advanced functionality that OTT can provide.
— Sports operators spending 15% of their total budgets on OTT: According to the same report, sports operators worldwide are now spending 15% of their total budgets on OTT, meaning that by 2021 more than $6.8B will be invested in the OTT tech stack in North America alone.
In addition, some experts believe that investing in new functionality to bring fans closer to the action results in 24% uplift in subscriber acquisition.
— IP-delivered services from leagues, federations, and operators are the future gateway for sports consumption – with 'OTT 2.0' expected to emerge by 2021. Insights from senior sports executives suggest the 'freemium' model or 'family packages' will become essential for bringing new consumers into the ecosystem and converting them to fully paid-up subscribers thereafter.
"The sports OTT KPIs have changed. It's no longer just about streaming the match. Encouraging viewers to come back day after day is the gold standard, even when there's not a live match taking place. That means maximising engagement on the shoulders of the game itself. Tailoring video and editorial content to different types of fans and reconfiguring the UI and UX based on time of day, user insights, or the latest developments in the sports world that week is how brands can create a better ecosystem around a sport." said Giampiero Rinaudo, CEO, Deltatre.
So what are some example of big sports teams' OTT offering?
Manchester City:
Club: Manchester City (Premier League)
OTT offering: Man City For TV; Pricing: $2.19 per month.
Total Fanbase: 72M fans
Total revenues (2018/19): $784M
Manchester City is one of the biggest soccer teams in the world today. In terms of OTT offering, Man City for TV offers access all Man City content for $2.19 per month.
Fans can get access to selected live pre-season friendlies, Women's and Academy games, full match replays within 24 hours of the final whistle, exclusive CityTV productions, archive match content, and match highlights, interviews and press conferences. Man City for TV is also available for free on connected devices, including Apple TV, Roku and Amazon Fire TV Stick.
Picture: City +
The club also launched a documentary series with behind the scene videos of regular season. The content is available on Amazon Prime.
Video: Manchester city's Amazon documentary
In terms of AR/VR, fans can also get access to VR content on VR headsets (Samsung Gear), watch highlights from the regular season.
Video: City's VR experience
Man City also offers Mixed Reality/ AR services such as AR based digital cards which provides fans with exclusive access to video content. The club claims that their AR app has registered 5K scans so far.
Video: City's AR based digital cards
⬆️ The Upside:  We believe Manchester City tends to be an early adopter when it comes to adopting new technologies and especially OTT services (Video streaming, AR/VR..). Its $2.19 / per month OTT offering is appealing and provides good value to its fans. The club is also uniquely positioned to adopt emerging technologies like OTT due to its international ownership group (City Group Football) which owns stakes in clubs in the United States (NYFC), Australia (Melbourne City FC), India, Japan, Spain, Uruguay and China. It can also learn from its other affiliates clubs which is not negligible to establish a successful global OTT strategy.
NBA:
League: NBA
OTT offering: NBA TV. Pricing: $29.99 – $154.99 per month
Total Fanbase: 178M fans globally
Total revenues (2018/19): $8.8B
When it comes to sports leagues and OTT services, the NBA is a pioneer. Today the NBA offers the NBA TV, an OTT offering, which is jointly managed by the NBA and WarnerMedia's Turner Sports. It is essentially offered through NBA.com and the NBA App.
NBA TV also offers advanced features such as new camera angles, with footage captured exclusively on smartphones; live on-screen group chats with celebrity influencers; in-depth analytics and statistical graphics; and social media integration.
As part of its OTT offering, the NBA is also very active in the AR/VR space. The sports league offers live VR content through its partnership with VR company NextVR.
The NBA is also active in the AR/Mixed Reality space as it offers a Mixed Realty experience through its partnership with Magic Leap. While most AR platforms only allow users to watch a single game, the NBA experience for Magic Leap One gives basketball fans the ability to enjoy both live and on-demand video in separate screens, with players' statistical data.
Video: NBA's Magic Leap One experience.
⬆️ The Upside:  We believe that the NBA has one of the most compelling and cross platform OTT offerings today. To drive the popularity of its OTT offering, it can take advantage of its strong brand, and loyal fanbase. That being said, one should point out that its OTT offering tends to be priced at a premium ($29.99 – $154.99 per month) compared to OTT offering from other clubs or leagues.
Barcelona FC:
Club: Barcelona FC (Laliga)
OTT offering: Barca TV
Total Fanbase: 219M fans.
Total revenues (2018/19): $959.3M
FC Barcelona, one of the biggest soccer teams in the world, recently made a big splash in the OTT world by announcing its plan to launch its own subscription-based over-the-top streaming service. The platform will be called Barça TV+ and is expected to debut this spring.
Barça TV+ will feature on-demand content such as highlights from first-team matches, exclusive player interviews, and archived footage, according to SportsPro Media. It will also livestream first-team press conferences, B-squad matches, and all women's team home games from Spain's Primera Iberdrola. Barcelona FC execs recognized that they are now competing against the Netflix and Amazon of the world in the OTT space which is why they might as well create their own OTT service:
"Our competitors are no longer only the clubs playing football—there are new players we may not have expected ten years ago, such as Netflix, YouTube, Fortnite, MindCraft. Traditionally, we have been working with the biggest platforms in the world. We want to empower this vision by adding our own platforms," FC Barcelona board member Dídac Lee said, according to SportsPro.
Picture: Barca TV
The club is also an active player in the VR space. It currently offers a VR experience as part of the FC Barcelona Museum. Concretely, the Camp Nou Experience includes a new virtual reality area, in which users can put themselves inside a training session or game at the stadium, thanks to 360º technology. The projection lasts for four minutes and is a unique, innovative experience for Barça fans.
The FC Barcelona FC is also leveraging the power of mixed reality to upgrade and design its new stadium. Called the Espai Barca project, which will see an expansion and upgrades to FC Barcelona's Nou Camp stadium as well as a new 12,500 multipurpose venue, is bringing about a construction revolution by being built using the latest 4D mixed reality technology.
Computer-aided designs have long been in use by architects and engineers, but those working on the $702M build in Barcelona, Spain, are employing the next generation of design equipment with futuristic augmented and virtual reality technology.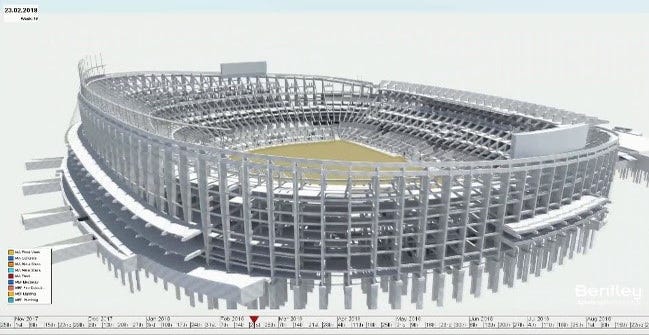 ⬆️ The Upside:  We believe that Barcelona FC is well positioned to become a key player in the OTT sports market with its Barca's OTT offering. Let's face it: It is uniquely positioned to convert a good portion of its 219M fans to its upcoming OTT offering. Assuming that it ends up charging $5 per month for its OTT service and that 3% of its fans adopt it, it will be able to generate an additional $78M per year in OTT revenues.
Juventus FC
Club: Juventus FC (Calcio)
OTT offering:
Total Fanbase: 300M fans
Total revenues (2018/19): $228M
Juventus TV is available across smartphone, tablet and desktop devices at different price points. Club members can access the service for $3.50 per month or $17 annually, while non-members can get access for $4.50 per month and $23 for the year.
Picture: Juventus TV
The platform provides exclusive interviews, historical content, highlights and full match replays from the team's Serie A, Coppa Italia and Champions League games. The service is equipped with a multi-cam mode allowing fans to choose their own viewing perspective of the action.
Other content includes press conferences, behind-the-scenes footage starring the likes of Cristiano Ronaldo and pre and post-match build-up live from the club's Allianz Stadium.
Similar to Manchester City, Juventus FC launched, in partnership with Netflix, its own documentary series.
The leading Italian club also has a VR content offering. Back in 2017, it launched the a VR app, allowing users to be fully immersed in the Bianconeri world and rub shoulders with their stars.
VR users are brought into close contact with their Bianconeri stars, enjoying 'behind-the-scenes' access to special scenarios such as the 2017 Scudetto ceremony at Allianz Stadium, narrated by Buffon, Villar Perosa Day or the Black and White and More event, during which the club revealed its new visual identity.
"Innovation and excellence have always represented two of the most important values of our club," commented Federico Palomba, Co-Chief Revenue Officer of Juventus.
Video: Juventus VR app
⬆️ The Upside:  We believe that the Juventus FC is one of the most innovative clubs in the world when it comes to OTT services. Similar to Manchester City, it offers a full OTT offering (Video on demand, documentaries, VR offering..). It also has a unique opportunity to convert a good portion of its fanbase to its OTT offering to generate incremental revenues.
Real Madrid
Club: Real Madrid FC (Laliga)
OTT offering: Real Madrid TV, Facebook's subscription service for $2.77 per month.
Total Fanbase: 227M fans
Total revenues (2018/19): $835M
Real Madrid, one of the biggest soccer clubs in the world, is a key player in the fast growing OTT space. Years ago the club moved its television channel, Real Madrid TV, beyond traditional linear broadcast channels. In doing so, the Spanish club has generated 110M video views by taking its broadcast live on Facebook 128 times, leading to more than one billion appearances across all social media outlets. By putting unique, on-demand, OTT content on Facebook Live has allowed the club to reach a wider audience and strengthen revenue streams.
But it recently went one step further by launching a new Facebook subscription service costing $2.77 per month with the aim to monetize their 110M followers on the platform.
Called the 'Madridista Nation' service (see picture below) the subscription based service provides subscribers with the ability to display the La Liga club's crest on both their Facebook profiles and comments as a 'sticker'. Subscribers also gain access to exclusive Real Madrid content, as well as club promotions and a private supporters discussion group.
Real Madrid also has a VR channel, available across VR headsets, tablets, smart TVs, and launched in partnership with The Dream VR. They built a patented unique VR e-commerce experience which enables their fans to sell their associated items (Jerseys, tickets..) throughout the VR experience and on top of the VR subscription that their VR users already have to pay. Of note, the Dream VR is able to do this as they have a unique global partnership with Fanatics.
Picture: The Dream VR's e-commerce experience with Real Madrid
⬆️ The Upside:  We believe that Real Madrid is out in front when it comes to OTT sports services. The recent launch of its subscription based Facebook channel, coupled with the VR e-commerce channel, is the perfect illustration of this. Plus Real Madrid is well positioned to monetize its OTT strategy in a big way. Assuming that only 1% of its fans convert to its $2.77 monthly Facebook subscription service, that would present $75M in incremental revenue from OTT services each year.
So what does the future of the sports OTT industry look like? What are some of the major sports leagues heading when it comes to OTT services?
— NFL staying loyal to cable TV providers for now to launch OTT offering.
The NFL currently has no plan to offer a standalone OTT offering. Instead it plans to continue to team up with DirecTV to launch a future OTT offering, according to Blake Stuchin, NFL VP of digital media business development, who spoke on a panel during the SportPro OTT USA conference in Atlanta recently.
"We really want to make those games available to as many fans as possible," Stuchin said. "We ultimately need to sell fan and economic solutions that will satisfy our owners and make sense for our business."
— South America (Mexico, Brazil), a key focus for the MLS and NBA.
As we know soccer is king in South American countries such as Mexico and Brazil. The MLS understands that and this is why MLS games began streaming on Pluto TV in the region last May. The deal is intended to grow international fan bases while also attracting players from local leagues to MLS.
MLS teams spent $370M acquiring foreign players this MLS offseason – with 50% of those signings coming from Latin America. 
This region is also a core focus for the NBA as the NBA recently stated that 35% of its single-game NBA League Pass purchases now come from Latin America. Partnerships with the Novo Basquete Brasil and NBA regular season games played in Mexico have also boosted fan engagement. Mexico City additionally will soon be home to an NBA G League team beginning this fall.
— PGA Tour Live updates under way
The PGA, as part of its OTT offering, plans to start streaming every shot of the Players Championship on PGA Tour Live for the first time on its OTT offering. To do so, they plan to use 120 cameras around TPC Sawgrass beginning March 12 to produce 24 different streams fans can choose from on NBC Sports Gold. According to PGA officials, this OTT offering will be a one-time deal.
So are Netflix or Amazon becoming a major competition or threats to major clubs and leagues trying to take advantage of the OTT opportunity?
"There's no question that the attention of global consumers is being further stretched across more alternative outlets, be it binge-watching or TikTok, where even the most popular sports organizations are competing for eyeballs. Football clubs like Barca have to (are) create new ways to engage with their fans, use data to inform their decisions for developing and maintaining a strong relationship with the consumer", said Applicaster, a leading OTT Tech vendor, during an interview with The Upside.
Of note, Applicaster is a leading OTT tech enabler and world-leading cloud-based platform for app development and content distribution, providing the tools and insights needed to own and engage audiences across all platforms and devices. Applicaster-powered apps are used by millions of viewers worldwide everyday, by audiences of customers including DirecTV, Fox, Viacom, ProSiebenSat.1, Televisa, Kwesé and, Mediaset. It has also worked with pro teams like the NY Giants (NFL).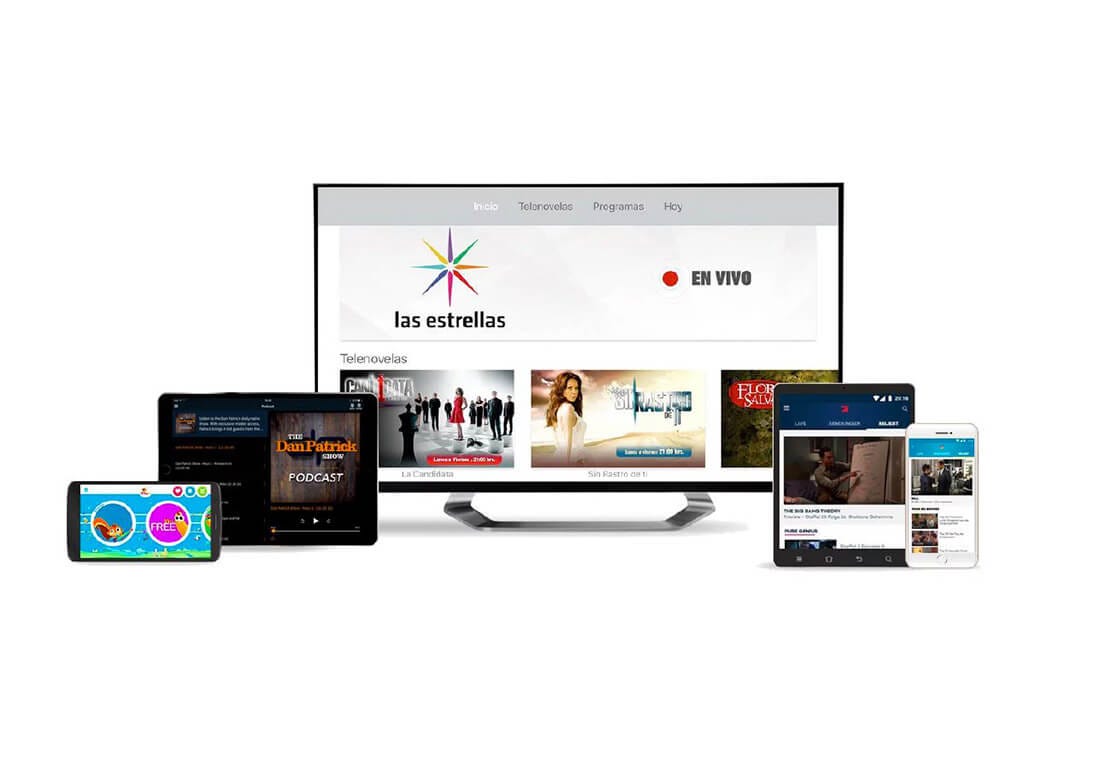 Picture: Applicaster
So what should pro teams and leagues do to launch a successful OTT offering?
a. Creating custom OTT experiences with different flavors:
"OTT is all about service, it is all about features and all about experiences for how people consume stories. Think about it, now that the delivery pipe to get to consumers is wider, OTT means you have to focus on the entire experience instead of just pushing flat content down a stream. You will find that people want different flavors, the brand/team that finds the way to customize content for those flavors are the ones that will win. I like our chances, our content creation tool is completely interactive and customizable down to the individual's IP address", said Marc Rowley, CEO of Live CGI, during an interview with The Upside.
By doing so, pro teams and leagues could even charge more for their OTT offering. In fact, almost two thirds (63%) of consumers would be willing to pay more to stream live sports if platforms were to provide a more personalized user experience, according to a study carried out by the US communications Verizon.
b. Invest in an adaptive OTT technology platform:
"First, invest in a technology that allows you to grow, to react to change, to experiment and evolve", said Applicaster.
c. Leverage your fans' data to create a tailored OTT offering for fans:
Then make sure you know your fans and what they really want, using data to help you", said Applicaster.
d. Make every consumer an advocate for your story:
"Your goal in any product, with any story, and with every interaction is to turn your fans into a community and to turn your community into advocates for your team. When you have advocates, they help promote your business, they promote your brand, and they drive your story. Your OTT application should have that one goal, make every consumer an advocate for your story. When you do that you will have a product that resonates, drives tremendous value, and grows revenue. Listen, research, plan and keep your focus on your story. No one knows it better than you", said Marc Rowley, CEO of Live CGI, during an interview with The Upside.
e. Offer OTT services with innovative subscription pricing models at an affordable rate to scale faster: Teams and leagues looking to launch an OTT offering should offer an OTT offering with innovative subscription pricing models at an affordable rate in order to reach critical mass and convert as many fans as possible. This is precisely what Real Madrid did when it recently introduced a $2.77 monthly subscription-based service on social media platform Facebook, offering photos, videos, exclusive content and special stickers.
f. Make an OTT offering as a full part of your lifestyle brand with unique benefits to the fans: Teams and leagues should also make this OTT offering as part of their lifestyle brand and include unique benefits (VIP passes, exclusive events, etc.) for their fans.
g. Make an AR/VR experience with a unique experience and as a full part of your OTT offering:
"You have to change how you create content and focus on the story otherwise, you will see what has happened to so many tech companies that have tried with AR/VR, you fail. You need to make the story better. Focus on the story and then you will grow. When you do that you will get people to be in VR/MR. Before Live CGI coming on the market, the VR offerings are still 2D. You may say, no I was watching a VR broadcast. Well, you were watching a flat broadcast that was bent around to look like VR. But you are still stuck to watching through the eyes of the camera based on where that camera was positioned. With CGI you can move anywhere. Imagine playing FIFA and being able to move around the field and watch the action…wait, you can already do that with the video game. All we are doing is bringing that functionality to life for live sports. That is the future of AR and VR, not this flat world were we bend an image to fake VR – but a truly volumetric transfer of a live event into a full CGI output", explained Marc Rowley, CEO of Live CGI.
Of note, Live CGI enables teams to create a sports daily show faster and at an affordable price:
"In the past, if you wanted to create mid-week content or daily shows you needed a studio with lights and a lot of expensive equipment. Now you can use the low-cost streamer model and it will work to a degree, but it limits your revenue potential, limits your brand, and reduces your ability to have a clear story. Our position is to dump the hardware and upgrade it to a software solution. To date, our clients have been very pleased with how we help them create more content which gives them more advertising inventory to sell", explains Marc Rowley, CEO of Live CGI.
Video: Live CGI
Live CGI can enable teams and leagues to create a high quality studios a a 90% reduction from a traditional physical space:
"As a pro team and a league, you can create high-impact studios at a 90% reduction from a traditional physical space. And we are 97% more energy efficient depending on your setup and 95% more efficient with your human capital. Moving to CGI has a ton of benefits to OTT content creators", explains Mr Rowley.
Here is a screenshot below from the NBA 2K studio which was created by Live CGI.
Picture: NBA 2K studio created by Live CGI.
h. Focus on building a VR e-commerce experience as part of your OTT offering:
"The next big thing in VR is here! The new generations do not understand the VR content without being inside of it, without interaction and without shopping in it (..) That's what we built for Real Madrid and the F1 Federation" (…) "We at The dream VR have built the largest OTT in VR and 360 video but at the same time we are one of the biggest producers in the world", explained Albert Palay in an interview with The Upside.
Of note, The Dream VR is the only company in the world to have a worldwide patent with an e-commerce platform in 360 video format inside of a smart TV. They are also the only company in the world available in 300 million smart TVs from Samsung, 50 million Apple TVs.
Video: The Dream VR
Outlook: In the coming years, we expect to see an increasing number of pro teams and leagues launching their own OTT offering to better compete against the Netflix, Amazon of the world, better engage and monetize their fans, and drive their top line. OTT offerings that will be fully tailored and customizable to fans' preferences will become the new norm. In addition, AR/VR with full e-commerce capabilities as part of an OTT offering will also be a key part of the OTT sports trend. In addition, we also expect pro teams and leagues to make strategic acquisitions in order to bring OTT capabilities in house and get a bigger piece of the OTT market. Over time, we also expect some pro teams and leagues to license their OTT platform to other – non competing teams and even brands in order to drive additional revenues. Lastly, we expect players to create their own OTT channels in order to promote their lifestyle and become global brands. Are you ready for the OTT revolution? We certainly are..